Total Talent Management (TTM)
We adopt a holistic approach to Total Talent Management, combining all available sourcing options to maximize talent sourcing potential and outcomes, and minimize spend
What is Total Talent Management?
Total Talent Management (TTM) describes implementing a comprehensive operational behavior to evaluate talent needs, design, operate and review talent operations in a way that combines all available sourcing options, including permanent (RPO) and contingent talent (MSP) solutions. TTM leverages automation, AI, and micro job sites to boost efficiencies and help run your talent sourcing operation smoothly.
While many organizations are embracing these approaches, rarely is it consolidated effectively into a streamlined operational process. They are missing out on operational efficiencies and savings that can be achieved by aligning these methods.
Due to the ever-changing demands, organizations are taking steps to leverage the contingent workforce (self-employed contractors, freelancers, consultants, and other non-permanent workers).  With so many ways to get jobs done – and with talent acquisition responsibilities split between HR, IT, recruitment, and procurement teams – how can you make sure your organization is making the best choices for each and every task?
What makes our Total Talent Management approach different?
To maximize value, sourcing decisions must start in the boardroom and follow a formal triage process. Weak governance leads to multiple systems, duplications in resourcing, siloed teams, and poor outcomes.
Our approach is about stepping up to the change management issues of transitioning decision-making systems, organizational designs, technologies, and behaviors. We have an established track record of resolving strategic workforce planning, acquisition, and management issues for global companies.
We believe that focusing on technology alone cannot lead to a successful TTM  initiative. It demands executive sponsorship and a holistic combination of the right people, processes, technology, and data.
Do you need a Total Talent Management solution?
Is there a standardized triage system used across all departments to optimize job tasks

, that embraces automation, outsourcing, and permanent and contingent working solutions?
Are processes not documented in a way that determines the proportion of jobs that are fully automated, partially automated, or manual?
Are resourcing decisions being made largely at a departmental level?
Do you have different approaches for permanent and temporary staffing?
Is there an understanding of the total cost of resourcing jobs to be done?
Workspend embeds and then facilitates the provision of a Total Talent Management system that's tailored to meet your organization's talent requirements, now and beyond.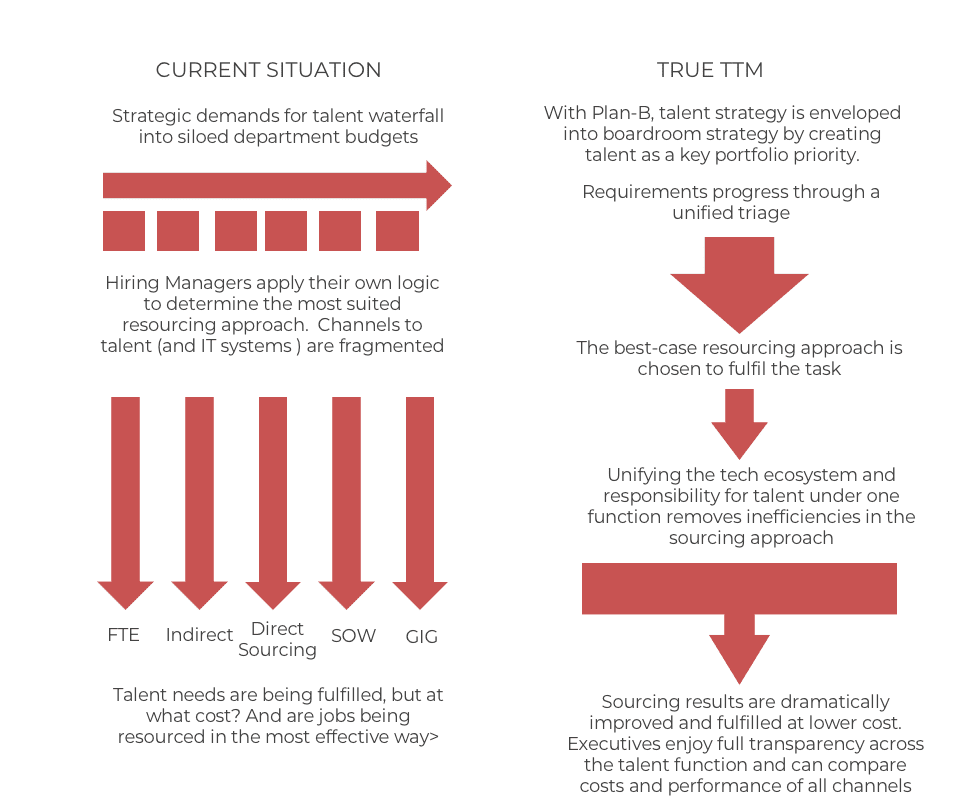 Let's discuss how we can align your talent strategy to your business goals.