A traditional managed service provider (MSP) solution's plan begins with analyzing the prevailing business constraints in a talent supply chain and then addresses the standard set of program issues using a well-worn solutions playbook. However, this leads to a tactical "one shoe fits all" approach to service delivery, generally resulting in only marginal improvements in a client's contingent workforce program and is usually limited to operational (i.e., tactical) program features.
Introducing Design Thinking
Enter the concept of design thinking, which is described as "both an ideology and a process, concerned with solving complex problems in a highly user-centric way1." Design thinking seeks to understand the pain of the end user and address this pain from a human-centric perspective. It is often applied in creative functions like website design and UI/UX design; however, Workspend has adopted and implemented design thinking within their solution delivery methodology as a means of championing the customer experience.
Shifting Demand in the MSP Landscape
It is our opinion that the traditional approach to solution design employed by numerous MSP solution providers in the marketplace lacks a true understanding of the end users' pain points. Typically, the MSP is offering a traditional solution suite and, as a result, selling all modules within that suite. This results in a higher cost footprint and "big box" solution that is not client-specific. As a result, a dislocation has occurred between the services delivered and the needed results, leaving clients asking questions like "how can my MSP truly help me solve my specific challenges?"  In addition to this dislocation, we often times find that service delivery becomes more about standing up a software solution like a vendor management system (VMS) and teaching end users on the tool, as opposed to building a truly holistic, cohesive, contingent workforce plan to help solve existing issues and to propel the client forward in a strategic manner.
Workspend's Delivery Design Team 
Workspend's Strategic Center of Operational Excellence (SCOE) addresses this solution delivery design dislocation by having built an internal "Delivery Design" team focused purely on solving the complex challenges that our clients are experiencing, but doing so in an empathic, user-centric and pain point specific manner. This is a considerable departure from a solutions delivery team, who have typically focused on standing-up a traditional "big box" solution suite MSP. Rather, the Delivery Design team takes into consideration the human element of the solution, for example: designing a client-centric quarterly business review based on stakeholder experience, building tailor-made program reports for each end user, and even performing statistical reviews of each operational and administrative program functions and then comparing them to industry-wide benchmarks to drive guidance for the program and set milestones accordingly. This level of customization is achieved through cross-functional training, the assignment of multiple and varying client challenges to SCOE associates, but ultimately from hiring industry experts who've worked on not just the operational side of the business, but who have also experienced similar pain in a previous assignment and know how to calibrate Workspend's solution to fit the need.
The Evolution of Design Thinking
The concept of Design Thinking"has existed for quite some time, but its application has historically been limited to elite technology firms attempting to accelerate their human-centric innovation labs. A good example of this is Steve Jobs's initiative with IDEO.
However, as MSP and VMS solution providers and other technology partnership ecosystems have increasingly become expected to solve today's client challenges, the application of Design Thinking is now being adopted by firms like Workspend. In conjunction with our consultative delivery approach, we have invested in a new combination of delivery design and are already applying it to their solution suite.
One such innovation is our modularized approach to our solution offering. It's human-centric in that it provides an "a la carte" approach to MSP solution delivery, which overcomes the negatives of employing a traditional "big box" solution suite. The value of design thinking is its human-centric element, where the solution is completely designed around keeping the stakeholder behavior and expectations in mind.
An Iterative Approach to Service Delivery and Implementing Design Thinking Innovation
Being human-centric is at the core of the approach taken by Workspend in designing a contingent workforce program and related processes and technology setup.
Design thinking is also based on the principles of "Integrated Thinking," which means building around the foundation of competing constraints.  By using the very same principles as Steve Jobs did for Apple's approach to product design, Workspend consultants aim to draw deeper insights from statistical, procedural, and experiential observations from their client engagements, bring their learnings back to the SCOE for a holistic review, and then, based on these results, create new, meaningful and innovative service and technology offerings that are then placed into a beta testing environment (i.e., internal pilot program) for further evaluation.
An iterative feedback loop is then established while the new delivery innovation is vetted in the pilot program. Workspend consultants then analyze testing results to ensure that the pilot offering is truly and meaningfully enhancing the calibration of the entire program to meet the functional and strategic organizational goals of the client. The result is a prototype.
As the prototype solution design becomes near-finalized, the Workspend team sets up a final testing process to finalize the services innovation. Once the innovation has been fully calibrated within this testing environment, the team deploys the solution enhancement to a client and begins sampling the results over an extended period of time through data gathering efforts. Once the data from the deployment has been captured and sanitized, the client's program is recalibrated based on several statistical analyses that are completed – from a procedural, operational, and financial perspective – and the information gleaned from the deployment is then transformed into new action items that are then reviewed, and the testing process is reset for the next batch of solution enhancement innovations. On an ongoing basis, the new service innovation will be evaluated and the benefits measured. If the SCOE Delivery Design team believes that the benefits may be applied to other clients, they then begin a process of creating a scalable service for other clients to utilize.
This approach is especially useful in global contingent workforce programs, where in some instances localization (i.e., customized program requirements for a specific local geography) may be difficult to achieve as they are unique in nature and therefore difficult to benchmark for statistical comparison purposes. The iterative design process and tool configuration is in a state of constant flux and, through data collection via primary and secondary sources, the program is iteratively recalibrated and redesigned until an ideal state is realized, thereby optimizing the end result for the client while accommodating the program's constraints.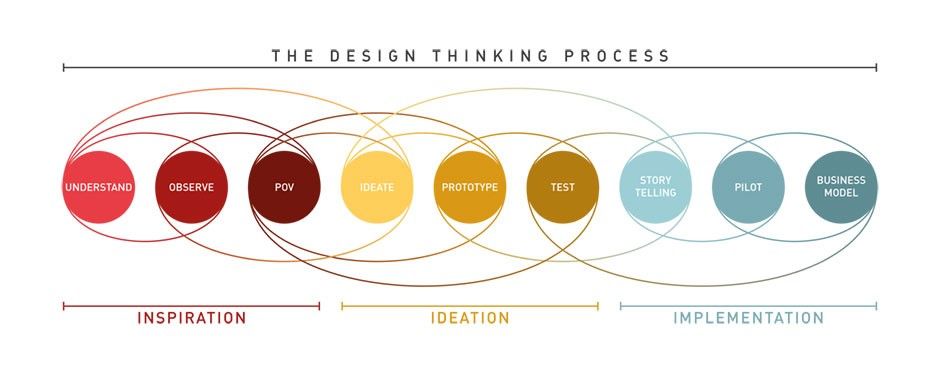 Source: https://www.interaction-design.org/literature/article/design-thinking-a-quick-overview
The Passionate Pursuit of the Ideal Contingent Workforce Program State
Workspend's solution design and implementation teams are constantly engaging with various client stakeholders, which helps us approach this ideal state via a seamless change management platform. With the design process involving active customer participation, leading to customized solutions and processes, a sense of ownership becomes natural for Workspend and the client, and when the new innovations are introduced into the operational processes of a program, the highly engaged stakeholders become the innovation's "Champions," which makes the program modifications easier to make.
With the application of Design Thinking principles for implementing MSP and VMS programs in place, our clients have received a tailor-made experience that is perpetually evolving the solution towards an approximation of an ideal state.
Workspend has taken it to heart that functional benefits are simply no longer a valuable proposition for our clients or any clients for that matter. An ideal state of operational, administrative, technological, and consultative efforts is needed to truly drive value in today's market environment. Design Thinking is just one new approach that Workspend has employed in being able to better analyze our client programs, innovate with our clients, and drive greater overall value for our clients.
1 https://careerfoundry.com/en/blog/ux-design/what-is-design-thinking-everything-you-need-to-know-to-get-started/ 
About the author
Sameer Srivastava has over twelve years experience in designing, implementing and managing MSP programs in Europe, Asia, and the US. His current responsibilities include oversight of Workspend's Strategic Center of Excellence based in New Delhi, India, and business operations in APAC and EMEA. Prior to joining Workspend, Sameer was leading Kelly OCG's Implementation services in EMEA and later went to head their MSP and RPO Operations in India. Post Kelly OCG, Sameer was at Allegis Global Solutions where he managed Implementation and Operational teams in India. Sameer also has experience working as an IT and Change Management Consultant in the US and the UK. Sameer holds a bachelor's in computer science from the University of Nebraska, Lincoln (USA) and an MBA from Cranfield University (UK). He can be contacted at [email protected] or follow him on LinkedIn.