The future of work looks different but, for workers, whether that's good news depends on what work you do. Employers must re-think their internal communications plan or risk a mass walkout of talent.
McKinsey and Co. have been writing some great content around the state of the post-pandemic workforce market, and specifically around the new hybrid working paradigm. One observation, by a leading McKinsey consultant, was that the relevance of hybrid working to your lifestyle has much to do with when you shower during the day, noting that white-collar workers tend to shower in the morning to freshen up ready for work, while blue-collar workers shower after work to remove the post-work grime.
The fact is, if you are a blue-collar worker (what we'd generally describe as commercial, trades, industrial, and light industrial roles), then you've probably not noticed much difference to your work-life pattern. Some jobs have to be performed onsite; for those roles, there really isn't much of a choice. Other roles—the ones that are more about strategy, computing, research, analysis, thinking and ideas—can pretty much happen anywhere.
Employers are ready to get back to the office. Knowledge workers aren't.
Employers want the normalcy of office working to return. Many shrug off the notion that there's been a systemic change in attitudes surrounding where work should take place. Before COVID-19, most knowledge workers would spend 92% of their working week at a workplace with their colleagues. That figure now is hovering somewhere around 52%, while a significant portion (36%) are attending the office for three of the five days.
As the authors of McKinsey's report, 'It's time for leaders to get real about hybrid' put it, "At best, the rosy messaging of a grand return to the office is falling flat. At worst, the tone deafness of the messaging may also be accelerating what's already shaping up to be the 'great attrition' of 2021."
The unfortunate discontinuity of the 'back to work' period we're experiencing currently is that a return to an in-person culture once again comes to dominate work culture, and this disenfranchises those knowledge workers who can, and presently, are working remotely. Many of these 'morning shower people' feel there SHOULD be a better-fit work-life solution for them. Ignoring the existence of this attitudinal change (that exists in one in every two knowledge workers) might be unhealthy for businesses.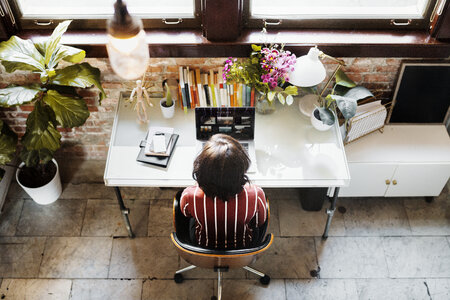 Heavy-handed policies might come with consequences
Forcing your knowledge workforce back to the office 'whether they like it or not' might not be the best way to go. Companies like Google are pressing hard to get their employees back to the office, and are adapting their payment plans to disadvantage those individuals who want to work at home. There's inevitably a lot of bad press that goes with this type of a decision, given that we live in an era where the majority are worried about climate change and the impact of commuting on accelerating what is already a concerning rate of climate decline.
Communicating a new message is a top priority for employers who want to keep their people
The challenge for employers is that, by ignoring the obvious change in work-life culture that exists in their knowledge workers, they risk exacerbating the issue by not adapting their communications agenda, leading workers to feel disenfranchised.
A new message then for the people that shower in the morning—but what message should your organization be communicating? The answer to that question depends on what your own workforce thinks about how they want to work moving forward. While there's clearly an industry narrative, every business works in its own unique micro-climate and so the only way you're really going to get a finger on the pulse of what your people are thinking is to ask them. It's time for reverse town halls, fireside chats, listening tours, ask-me-anything sessions, and the sharing of personal stories can help build a safe environment for employees to share their opinions and perspectives as well.
Ian Tomlin is a management consultant and writer on the subject of enterprise computing and organizational design.  He serves on the Workspend Management Team.  Ian has written several books on the subject of digital transformation, cloud computing, social operating systems, codeless applications development, business intelligence, data science, office security, customer data platforms, vendor management systems, Managed Service Provisioning (MSP), customer experience, and organizational design.  He can be reached via LinkedIn or Twitter.