Running low on talent bandwidth? Read our Total Talent Management guide
Businesses are racked with employee retention issues, struggling to find the right talent at a price they can afford, in the time and place they need it. Is it time to lean more toward contingent talent and a total talent approach?
Prepare for the unexpected with full workforce visibility and agility
Business success today is dependent on high productivity that presupposes the ongoing predictable supply of talent. Almost every business today faces economic instability and uncertain conditions.
Even in good times, client expectations in the digital era are in a constant state of flux. To achieve business goals, talent strategies must be both agile and durable. 
If talent leaders want to get a grip on their human capital management, they must re-think their recruitment process, embrace INTERNAL and EXTERNAL workforces, and use new tooling like tailored job portals to tap into top talent.
Remarkably, only 5% of businesses feel they have fully optimized their mix of talent of internal and external workers to achieve their business objectives. Only then can they hope to achieve the talent levels they need and bring control to unbudgeted labor costs.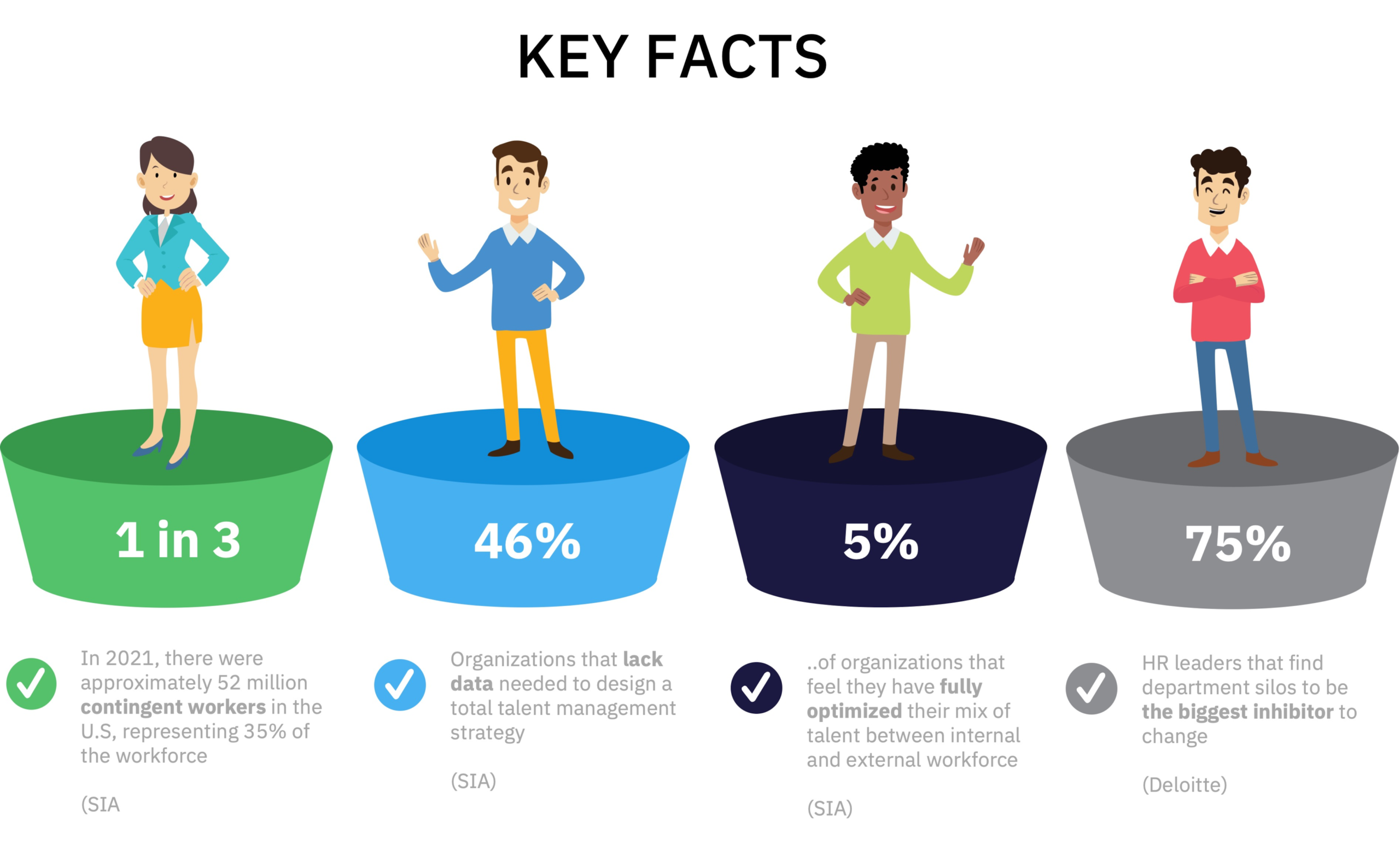 Workforce agility and flexibility
After the devastating economic effects of COVID-19 the industry was scrambling to predict the future of the economy.
The World Economic Forum warned there would be a huge change to forecasts and it would take years for the market to reach the levels posted during that period.
The crisis is also having a severe impact on business worldwide. In consequence, global economy fundamental underlying factors such as trade supply chains and monetary policies are forever reshaped.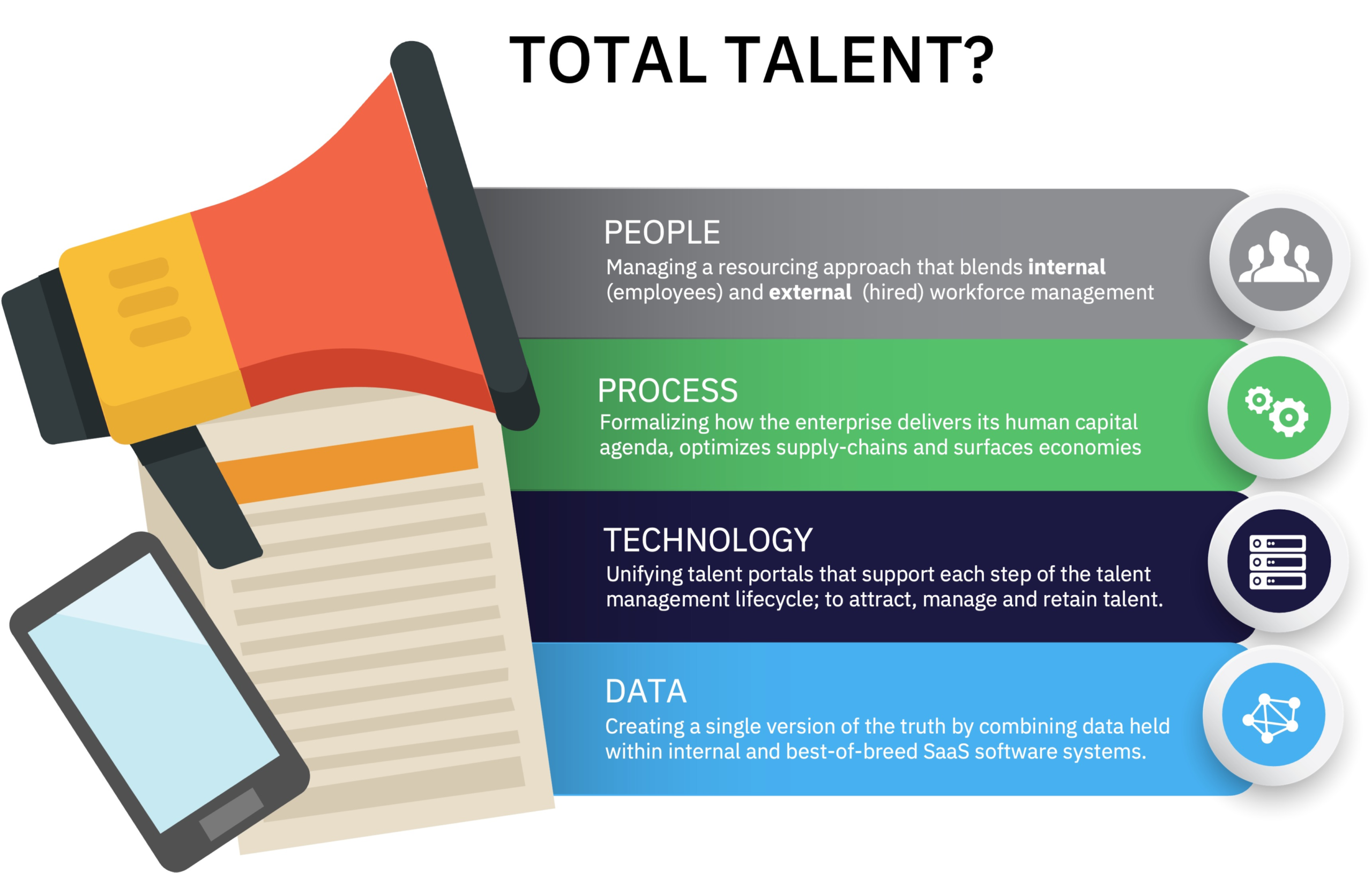 What is total talent management (TTM)?
Your business needs new employees and talented individuals to fill resourcing gaps and drive its growth. That means developing a clear understanding on how to attract high quality candidates in high demand.
How do you plan TTM into your future goals?
TTM describes an holistic approach to designing, managing and operating a workforce agenda. Just as with blended workers, total talent management is an emerging model of talent management.
TTM provides an extensive method for providing the right talent, on the right day, at the right price. This model includes all types of employees as well as sources, including permanent workers and temp employees. The idea is to remove the barriers to engaging and managing both forms of talent relationship.
The difference between talent management and talent acquisition?
Talent acquisition means recruiting the best people with appropriate abilities who have the potential to evolve and excel within their organization. Talent Management is the process of locating, hiring, training and bolstering talent. The term also incorporates employee transition and exit processes.
How do you build an effective talent management strategy?
Understand your total talent management processes
Invest talent tomorrow instead of hiring today. Then you should start looking at TM models and start looking for ways to develop your talent pool.
While many models exist it's easy to categorize into three parts – Planning and Development. Attracted. Select. Development. Retention. Let me examine this more thoroughly.
The steps involved in the process
You can cut the lifecycle of talent in many different ways, but essentially there are 6 major steps to getting talent management right.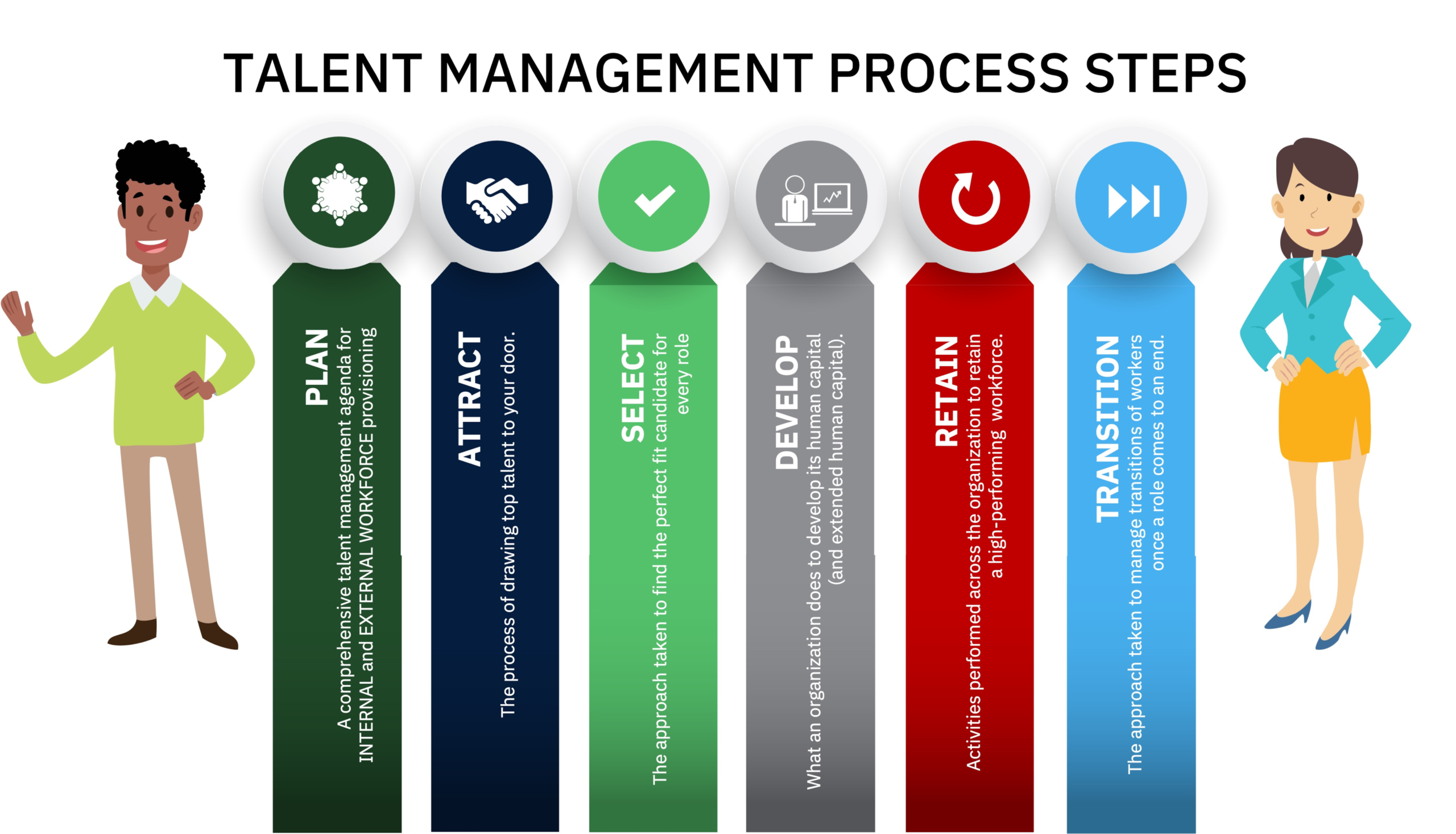 This is about identifying human resource needs, candidate qualities, organizational cultural fit and possible talent sources – all built into a comprehensive talent recruitment and management plan for INTERNAL and EXTERNAL WORKFORCE provisioning.
Of course, it's much easier to make a good plan when you have all the data. Many HR leaders tell us they are starved of useful data from which to build baselines and construct robust go-forward agendas.
A report by Staffing Industry Analysts found that 46% of organizations found they had a lack of data available to them before designing their total talent management strategy.
The scope of talent programs has extended, as focus has grown towards harnessing contingent talent
Increasingly, planning has to consider the complete lifecycle of talent, not just the finding and onboarding bit. Other aspects to consider include management, scheduling, monitoring, compliance, retention, incentives and rewards, wellbeing, moral, work environment, flexible working approach, and tech tooling!
Why is so much effort going into this expanded list of talent management demands? It's because talent leaders know they can only hope to attract the best talent grow and develop talent, nurture productivity, etc. if they deliver on their workforce promises.
Implementing a strategy isn't trivial. There are also blockers to change, the biggest of them being organizational silos.
A 2021 survey by Deloitte, found that the siloing of departments was seen by 75% of respondents as the biggest barrier to the implementation of a total talent management strategy. The remedy to this is to ensure that all stakeholders, including HR and Procurement, are involved in the process of designing your total talent management strategy from the start.
Talent attraction describes the process taken to draw top talent to your door.
To achieve future business goals, knowing how to attract talent is arguably a quality of your talent management process that your organization cannot live without. Thanks to a growing contingent workforce, and the rise of gig working, it becomes the choice of every hiring manager to fill vacant posts, externally or internally.
If you already have talented employees in your organization that fit the bill, it may be a good option to fill vacancies from within. When the right candidate with the necessary skills and experience cannot be found from within an organization, it becomes necessary to go outside.
The fact is, when it comes to vacant roles, there's a higher probability they will stay open for longer if you don't consider hiring instead of employing. Many job seekers today aren't looking for a job for life.
This is why total talent is taking off. It's about moving to new talent acquisition methods beyond the assumption that permanent employees are always the answer to finding the right skill sets. An agenda that instantly presses to 'employ' button every time a vacancy comes up is more of a resourcing plan than a strategy.
Selection is about how an organization approaches the task of sifting through CV's to find the perfect fit candidate for every role; someone who wants the job and is capable of doing it. For many hiring managers, getting the selection process right is the most critical element of recruitment.
Anyone who's hired a subordinate knows, the consequences of new hires not fitting into the current team or work culture, lacking the acumen to be productive, or missing the 'can do' attitude to get task lists done–these things are always in the back of your mind. For a team to deliver the highest level of productivity, managers need resources that fit in.
Safeguarding steps can be installed into your talent management process to maximize the likelihood that candidates will fit in and have the right skills to get the job done. Examples include AI powered shortlisting, writing tests, and face-to-face discussions. The winner will then proceed through the negotiations for determining his salary and benefits.
This is about what an organization does to develop its human capital (and extended human capital). When selected individuals join the firm and become employees, skills must change according to the role responsibility in which they were hired.
This usually begins with a training program for onboarding a new employee who has learned about the business culture. In addition, the students undergo internal skills training to further improve their performance.
For many individuals, performance reviews (appraisals) and associated opportunities for training are big retention issues.
To avoid them becoming 'attrition issues' you will need to create clear 90-day training and development journeys as part of your talent management process to equip workers with the job skills they need to be effective, followed up with regular mentor-led appraisals and annual performance reviews that give consideration to development of on-the-job and career building skills.
According to the latest research by Microsoft, it's thought that the number of neurodiverse candidates in the workforce is growing to something like 1-in-15 (although many individuals have not been formally diagnosed). Getting to know the ropes and fit into a work culture is frightening enough for anyone to cope with. As the number of neurodiverse job candidates grows, personal development must become increasingly personal.
This step is about activities performed across the organization to retain a high-performing workforce.
Wellbeing and retention are top searches this year on Google. Retention has become harder. To win top talent, your talent management process will need to satisfy the aspirational list of wants that the best candidates have front-of-mind in 2023.
With the erosion of the workforce brought about by early retirement of baby boomers, another cohort of workers choosing to find jobs where they can work from home, others who discovered they could turn their hobby into a career during covid (etc.,) there are fewer quality resources to go round.
New employees and hired workers know they can afford to be choosy. Managers need to do what they can to retain employees but also recognize, these are the things job seekers will be looking for when they hunt for a new position.
What goes into a retention plan?
If managers want to retain employees/hires and attract the right candidates, their talent management process should include all the building blocks.
To achieve their company goals, top tier employers are developing employee retention strategies that include career paths, reward increment promotion, allow individuals to bring 'their whole self' to work, support wellbeing (for workers and their families), and offer opportunities for workers to have a say in the direction of the organization.
The final stage of your talent management process involves getting the end of role transition right; where a worker is employed, leaves the organization or gets promoted.
Performing effective exit interviews (to learn how best to improve your talent management processes, attract the best talents, fit your team in the best possible way, etc.) will be a critical transitionary element to think about.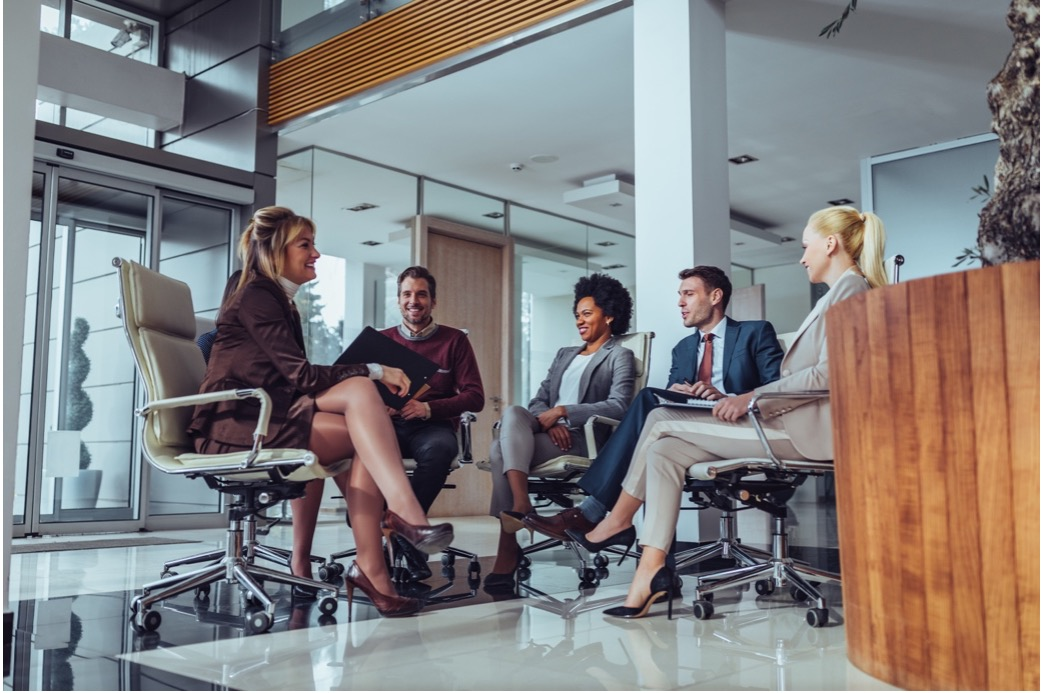 Benefits of talent management
In your business, talent management is important. List some advantages of using talent management processes in SMEs and other organizations. Recruiting requires significant changes in order to find the right candidate. Integrated technology is essential if you want an agile hiring system to perform scalability assessments.
How to get started – Work out what talent management strategy means to your workforce agenda
No talent management strategy just happens by osmosis. Managers have to set out a clear recruitment agenda and overcome outmoded norms of behavior to create it.
So, what are the key questions that you should be looking to answer?
Here are some obvious questions you can use to frame a workshop with colleagues:
Who is (or should be) accountable and responsible for our Total Talent Management Strategy?
What should our talent management process bring to our business in terms of human capital benefits?
What talent management processes (and steps) should we adopt?
What should our approach be to find resources to meet a business goals?
What technology should we be using in our talent management lifecycle to find top talent?
How do we develop our business culture to remove biases in recruitment and management behaviors?
Need to learn more about Total Talent Management? Why not read our complete guide on how to create a TTM agenda?
It's created to help HR leaders raise debate and shape talent strategy; to understand what areas to prioritize for organizational budgeting for their 2023 workforce planning agenda.
In this easy-read distributable guide, you will learn how to achieve future goals by tapping into contingent resources, find the best talent, shape attraction strategy to find the right employee/hires at the right price.
Power your workforce

outcomes with a diversity MSP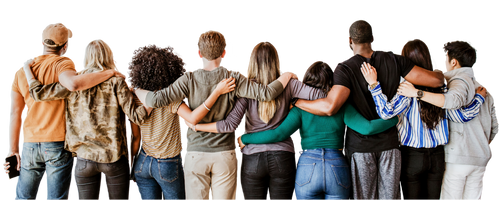 Manage external workforce
Make data-driven hiring decisions
Bring unbudgeted spend under control