Accelerate your DE&I agenda
Learn about Workspend's THREE-PART DIVERSITY PROGRAM
For over a decade, enlightened organizations have been discussing Diversity, Equity and Inclusion. Yet, in many organizations little has changed.
IT'S TIME TO ACT.
Diversity, equity, and inclusion (DE&I) initiatives have proven essential to organizational success, yet many organizations have yet to extend these efforts to their contingent workforce.
This oversight is significant, considering that over 40% of the workforce consists of contingent workers, according to a report by the U.S. Government Accountability Office.
Aligning corporate DE&I goals with the contingent workforce involves setting specific goals, monitoring progress, measuring outcomes, and driving continuous improvement. Organizations can implement diversity training programs to foster awareness and understanding among both permanent employees and contingent workers. But there's more to it than that.
What best describes your organization?
I have a DE&I agenda but this doesn't map across our contingent program
You may already have an MSP partner but not feel all the building blocks are in place to make DE&I work across your Contingent Workforce.
There is clear blue water between an MSP program designed from the bottom up to embrace Diversity, Equity and Inclusion in line with your corporate ambitions, and one that attempts to 'add' diversity into an incumbent set of designed behaviors, policies, systems and processes.
I have a DE&I agenda but I haven't even thought about 'contingent' yet
You're not alone.  Many organizations 'begin at home' and scale out their programs to indirect and off-payroll hires later.
Workspend is experienced in managing transition through programs. Unfortunately, it's not a simple case of 'copying and pasting' the DE&I approach you've designed for employees.  Many of the agenda items you will need to adapt or add to your list  already feature on ours!  We know how to drive results from MSP-led diversity programs.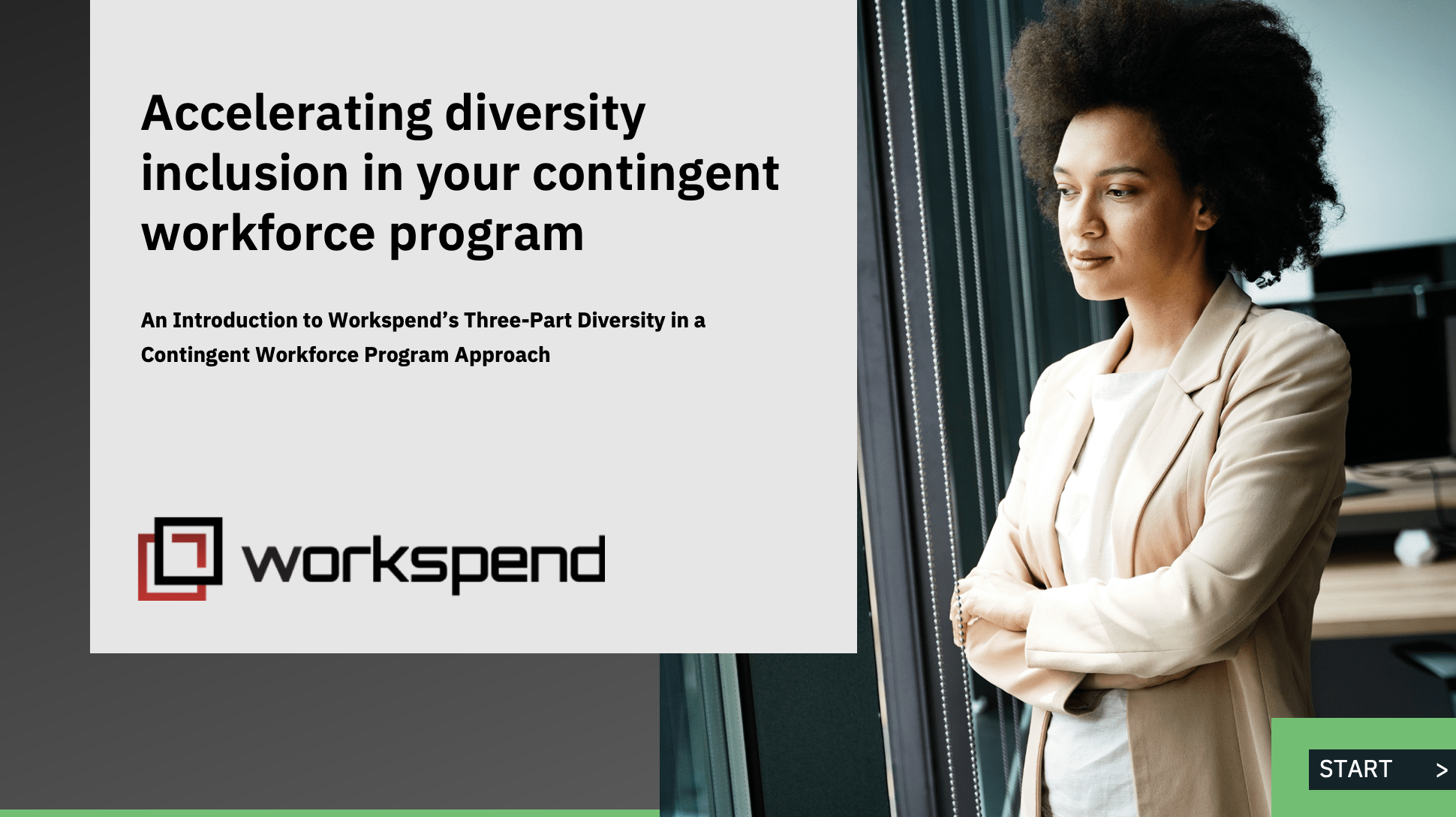 In this easy-read downloadable guide, we answer the big questions surrounding DE&I adoption across your Contingent Workforce, including:
Why is DE&I high on the agenda for talent leaders in 2023?
Why an MSP diversity program in three-parts?
How does Workspend maximize diversity spend when other MSPs appear to struggle?
What rewards should you expect from a best-in-class DE&I MSP agenda?
Download our white paper and get in touch!